Our stance on racism and white supremacy (in craft)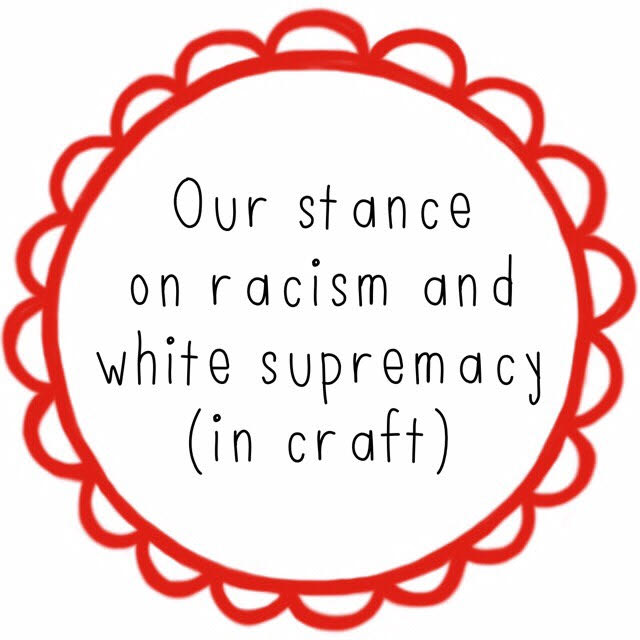 Update #2 (June 4, 2020):
While I've been making updates on our Instagram since Saturday when the protests of George Floyd's murder began, I have been remiss not to also do so here front and center. I've turned this anti-racism statement into a running post, and it has a bunch more info on our stance below, so I'm pinning it back onto our homepage.
Black Lives Matter.
We (Textillia's owners) fully and unequivocally denounce the murders and police brutality towards George Floyd, and the countless other Black people that have been killed by police brutality, not only this past week and month, but for years. We support the protests going on in the US, here in Canada, and around the world. The sewing industry is still very white and very averse to "being political", and it is critical that businesses and platforms like ours speak loudly in support of important humanitarian issues, within and beyond our actually very diverse community.
While our current resources are extremely limited and I'm not physically able to be out on the streets protesting, I've been doing my best to amplify the voices of Black sewists and crafters on our Instagram in solidarity, share resources, and encourage other companies to take clear anti-racist stances. And Bruno and I have been discussing other ways we can both keep progressing our understanding of the issues of racism, white supremacy, and police divestment, and make more tangible contributions in the future, both personally/locally and on a wider scale through Textillia.
Sending love and solidarity to everyone hurting, take care of yourselves and each other so we can all keep fighting for justice and equality.
Ariane
Sat, 03/16/2019 - 15:31
UPDATED Big software upgrade: Done!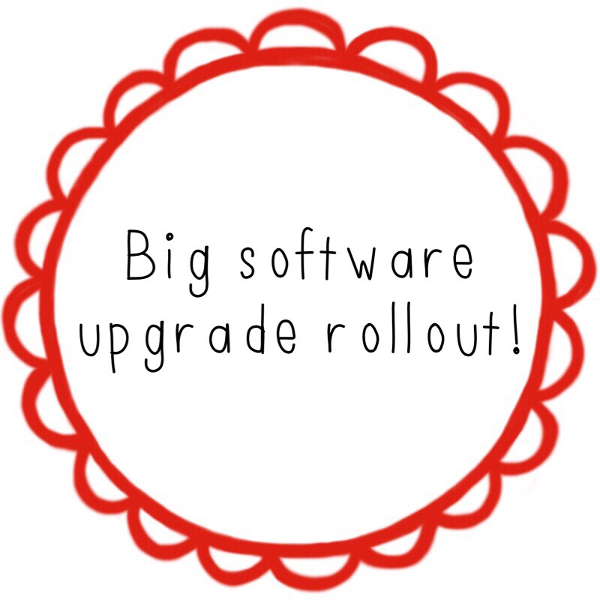 UPDATE: We've rolled out the upgrade! It was in the works for a long time, and we're very excited to wrap up this phase of development, and move forward again with building out more functionality. You might notice some small new bells and whistles (and also small theme bugs - if you do, please do report those in the forums or through the contact form!), but otherwise it should all look very similar to before, but nothing should be glaringly broken. And now, onward!
Bruno
Tue, 08/14/2018 - 15:58
New Years Textillia progress update
Hi everyone! You know how we like to be transparent about what we're doing here, so we wanted to share some of what's been going on behind the scenes for those of you who are interested in keeping up on that side of things.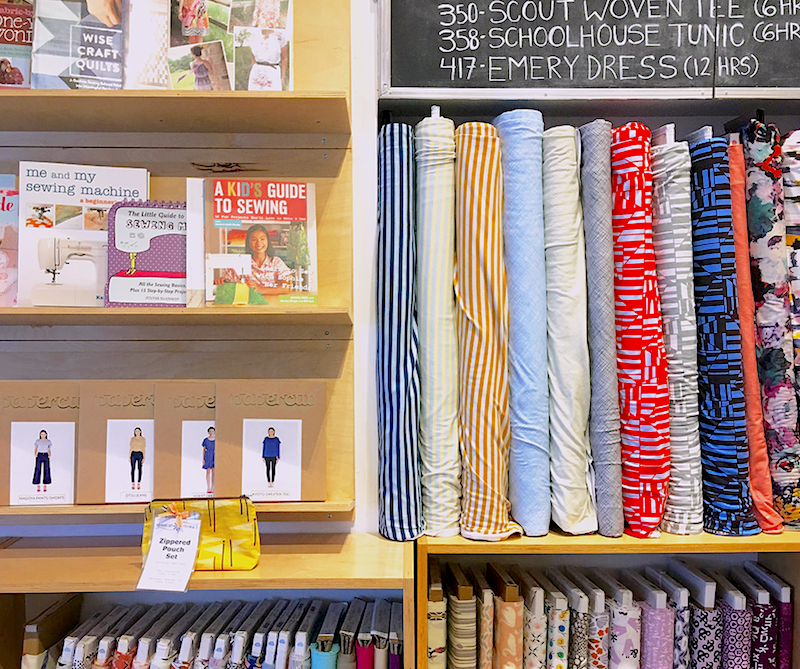 From a trip to my favourite local fabric shop Spool of Thread! (Not an ad, I just love them!)
Bruno spent most of the last quarter of 2017 working on preparations for getting out of beta, and in December he was focused on building out the membership system. This was meant to be the last piece of the puzzle before we could start the countdown clock to the official full site launch (which has been a long time in the making, so very exciting!) Going out of beta and finally having memberships set up was also meant to be a big step in overall progress of Textillia, as we intended to use that initial influx of membership revenue to fund the "big software upgrade" (from the now old Drupal 7 to the current version of the software we use called Drupal, Drupal 8). This should be the last "big" software upgrade we have to do, as after this version, the upgrades are broken up into much more frequent smaller upgrades, instead of one huge ominous one every few years.
Ariane
Wed, 01/03/2018 - 12:11
Shareable projects and profiles!
We're excited to announce that you can now choose to make your projects and profile publicly visible, making them much easier to share! *cue cheering*
Project visibility options
You might have noticed that there's a new little box at the top of each project page, indicating its visibility status: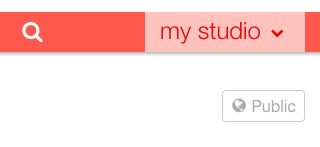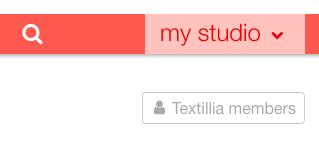 At the bottom of the project form (when you edit or add a project) the last field you'll see now is "Who can view this project?" You can choose from:
Only me
Textillia members
Everyone (public)
"Only me" can be useful if you're working on a gift or a swap project that you don't want the recipient to see until they've received it, or really any other projects that you just want to keep private. Just don't forget to set it to "Textillia members" or "Everyone" once you mark it as finished, otherwise nobody else will get to see it!
"Textillia members" is the default we've been using up until now, which means that everyone who's a member can see it once they're logged in.
"Everyone (public)" means that someone who doesn't even have a Textillia account can see it when given the link to the page - so for example, if you share a project you've finished to Facebook, your friends can all see it without needing to log in! When you choose this, it also enables the "Share" links on the page for Pinterest, Facebook, and Twitter (they appear below the grey sidebar box on desktop, or at the very bottom of the screen on mobile).
Ariane
Fri, 11/03/2017 - 12:15
The fabric picker! (New + improved fabric referencing on projects)
Surprise! We have a fun new bit of functionality for you! 
While most of what Bruno's been building the last couple months has been behind the scenes, we know how much everyone struggled with the fabric reference field on projects, so we wanted to improve that sooner than later. We've taken your feedback and designed a new and improved fabric reference field with a fancy fabric browsing tool that around here we've nicknamed the "fabric picker".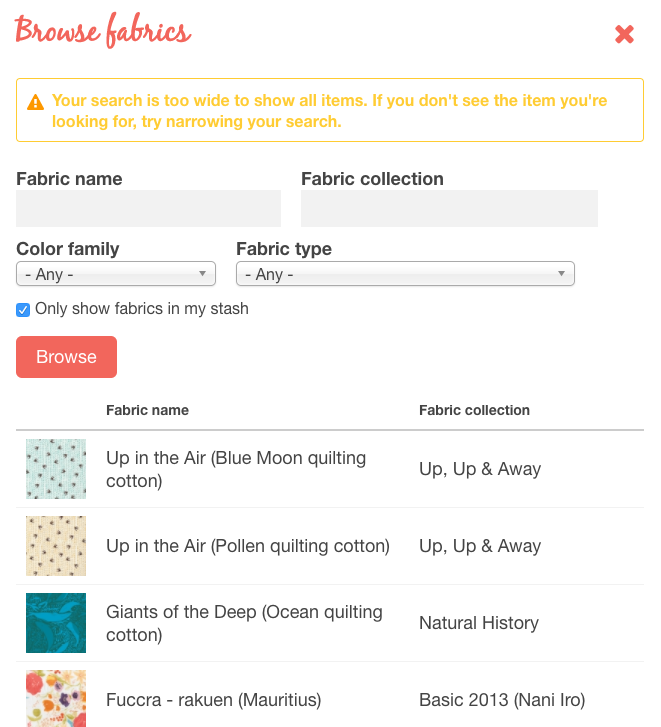 Here's how it works...
Ariane
Thu, 09/28/2017 - 12:19