Surprise! We have a fun new bit of functionality for you! 
While most of what Bruno's been building the last couple months has been behind the scenes, we know how much everyone struggled with the fabric reference field on projects, so we wanted to improve that sooner than later. We've taken your feedback and designed a new and improved fabric reference field with a fancy fabric browsing tool that around here we've nicknamed the "fabric picker". Here's how it works...
1. Edit or add a project...
Instead of the old fabric reference field, now under "Specific fabric" you'll get a button that launches the fabric picker.

When you click "Browse fabrics" this is what you'll see: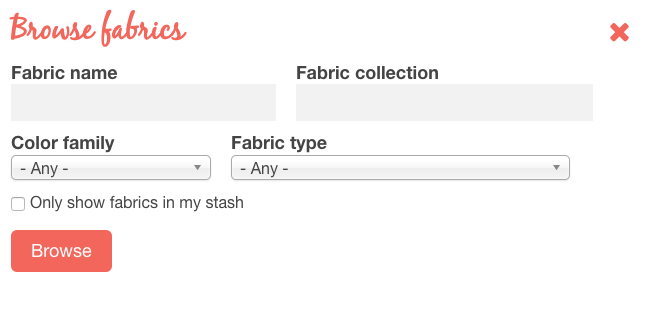 2. Pick from your fabric stash
If you've catalogued your fabric stash on Textillia, you get the bonus of being able to filter by your stash! The first thing you'll probably want to do is check the "Only show fabrics in my stash" box and you'll automatically be shown a list of your stash fabrics. (If you have a lot of fabrics stashed, you'll initially see the "Your search is too wide..." warning, which just means that the system can't display all results until you narrow them down more.)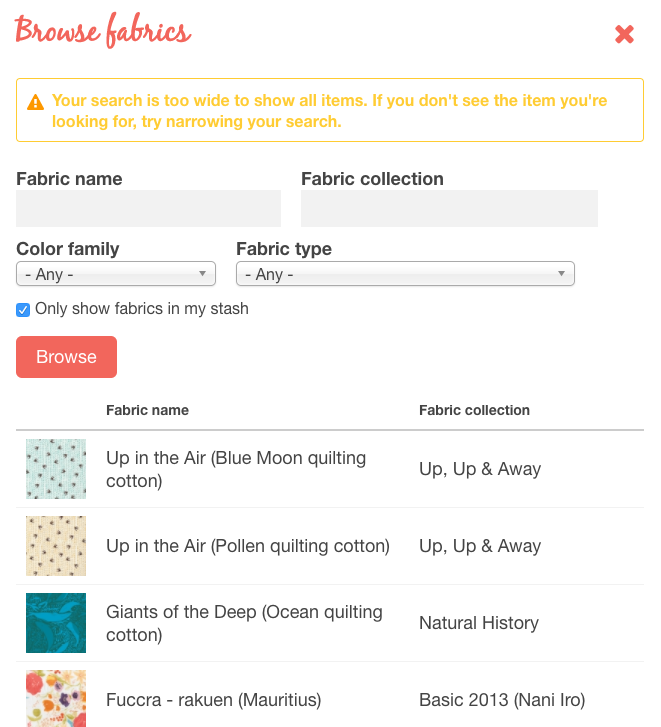 3. Filter the list further
Now, I can narrow down further... For example, if I want to see all the blue fabrics I have by my favorite designer whose company is called Nani Iro, I can filter for "Color Family: Blue" and then put "nani iro" in the "Fabric name" filter. You'll find it's A LOT more forgiving now than the old name field - Nani Iro isn't even in the fabric name, but it'll filter the list to display only my blue Nani Iro stash items: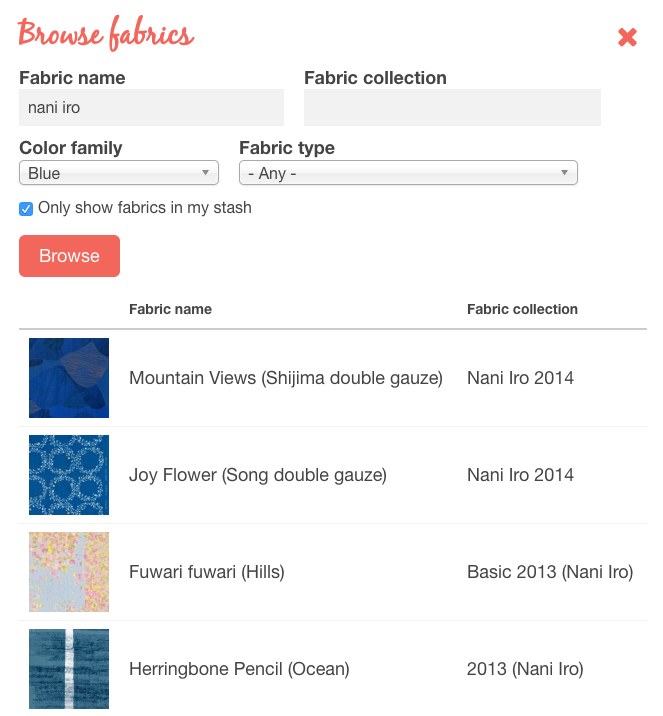 4. Select your fabrics
Now that I have a short list, I can click on each one I want to add to select them - once selected, they'll be highlighted. Then I just need to be sure to click the "Select" button at the bottom of the list to add them to my sewing project's page.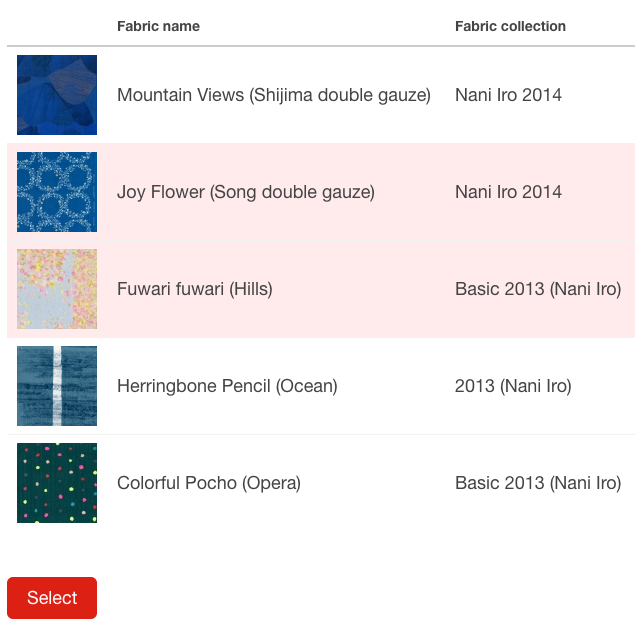 Ta-da, they're now listed under the "Specific fabrics" field:
5. Browse the entire database
If you don't have your stash catalogued, no problem. You'll still have a much easier time finding what you're looking for. Let's say I am using the Alabama Chanin organic cotton jersey in black. This time, I'll leave the stash box unchecked, and type in "organic jersey" in the "Fabric name" filter, and choose black from the "Color family" filter. It pulls up several options, and I can see the Alabama Chanin fabric in the list even before filtering specifically for that collection, so I can just select the fabric and add it to my sewing project page.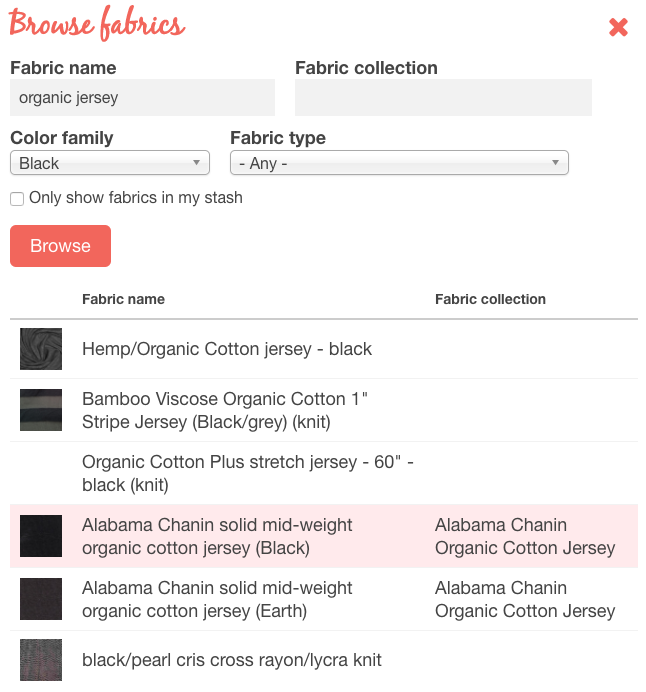 6. Remember...it's only as accurate as the database!
Of course, the filters only work as well as the database items are catalogued, so as always if you see a fabric in the database that needs more categories or info filled out, or has incorrect info, please go ahead and edit it to correct it! If a color, collection, or fabric type are incorrect, then it won't show up when those filters are applied. And as always, if the fabric is not in the database yet, then you'll need to add it before it'll show up in the fabric picker when you go to browse. Just another reason why community powered databases are awesome - if something's wrong or missing, you can dig in and take care of it yourself instead of having to wait around for someone else with admin powers to do it!
Try it out and let us know how it goes!
We think this will be so much easier to use and really hope you like it - thanks again to everyone who provided feedback about the fabric reference field and ideas for this improvement!