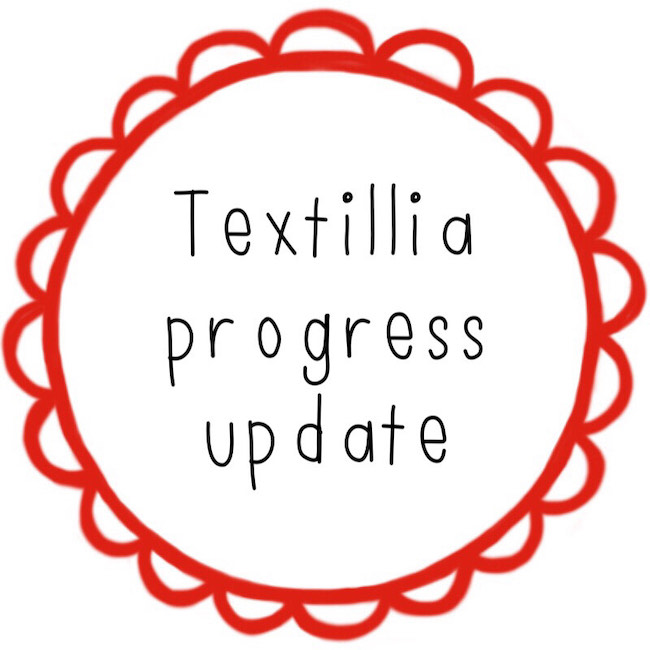 Hi everyone,
Whew! It's been a chaotic and stressful year to say the least. I've written and rewritten this post and postponed publishing it for months at this point... There was just too much to catch up on, even before the spring and summer brought so much global upheaval. With any luck this will be the final "big update" post like this, and the rest will be announcements about how we're out of beta and building cool new stuff!
In any case, perfect is the enemy of good (and more importantly, of done), so here we go. A mammoth update on where things are at and what's coming up for Textillia:
(Re)introductions + how things work around here
It's been a long time since we've done a proper update, so let's start with a (re)intro for anyone who's new around here.
Textillia is a tiny micro company run by me, Ariane, and my partner (in business and life), Bruno, and we live in Vancouver, Canada. We've both worked primarily in the NGO/academic/open source web world since university, but I've been sick with a progressive illness since childhood, which while finally diagnosed a couple years ago, left me unable to work regularly since my early 30's. Bruno comes from a background in journalism and independent media, and I studied sustainable development and health geography, alongside a minor in contemporary arts. I'm basically a lifelong crafter, having learned to sew as a kid, and have pursued a multitude of creative endeavors through the years. Bruno does all of the web-development on Textillia - he's built the entire thing himself (of course with everyone who contributes to Drupal, the open source software that runs Textillia)! And while right now I'm mostly full time occupied with my illness and treatments, I do my best to juggle whatever other non-developer tasks that need doing. That includes things like helping people in the forums, updating the homepage, posting to social media, and helping define and design new functionality.
You may have noticed things move kind of slowly around here - we soft-launched Textillia beta almost five years ago! Five years sometimes feels like an eternity in the tech world, but Textillia is totally self-funded and DIYed with the help of our members, including a tiny but mighty group of volunteer moderators. We took this slow and steady approach both out of necessity because of my illness, and so we could launch the company without taking on any debt. That means that once we're out of beta we can stay focused purely on making the website better, and not paying back loans or being controlled by investors. It's a privilege to have this kind of freedom, and has set Textillia up for a really exciting future! Frankly, I'm really proud of what we've been able to do, even through this extremely difficult personal time. (If you are curious about the concept of working at a different pace due to illness or disability, I highly recommend reading this amazing disability theory article on "Crip Time". It was a revelation for me after decades of being made to feel too slow/tired/behind on everything, and often being left behind because I couldn't keep up!)
You may have also noticed we don't shy away from "being political", which to us mostly means being engaged in what's going on around us and caring about marginalized people and the environment. We know some people really don't like that, but it's an integral part of our lives and we're not going to pretend to be be politically neutral. We don't tolerate hate speech or discrimination of marginalised people on Textillia, and that is not going to change. For a long time, I felt the pressure to be more like some of the bigger, corporate crafting platforms - to act like a huge company with a lot of money, and cater to everyone and not alienate conservative members of the crafting community - but over the past few years, that has shifted. Between my personal experiences and what's gone on in the world (crafting world and beyond), we've gotten very clear about our limitations as well as our priorities, and we want to be honest and transparent so you can make an educated decision about whether Textillia is a good fit for you.
So, things around here might be a little different than what you're used to on your average "startup"/"social media"/"online community"-like sites - big VC funding, a large team of developers and marketers, slick, shiny, etc... We are definitely not that. Think more like an early to mid-2000's website born of a love for craft and for working together to create a resource that serves this community - but with all the modern web technology and progressive politics of 2020. Our ultimate focus is being practical, useful, and aligned with our values, rather than doing things in line with the status quo of modern day web-based businesses. You won't see a lot of annoying clutter, or be treated like a commodity instead of a person. We know it won't please everybody, but it's how we've chosen to do this. We hope most of you will like what we're doing too, and that enough people will value the service and platform we've built, to support us and take this project into the future.
Refining our vision for Textillia
Our central aim is to create a database of all things sewing, a set of tools that supports documenting and organizing our projects and stash, and a space where community members can collaborate and connect with each other. Textillia aims to be a self-sustaining, low cost, member supported and crowdsourced project. Because we have no outside investors or debts, the small annual fee once we're out of beta (more on that below) will go towards only two things: recuperating our personal investment in starting the project, and continuing to build and improve Textillia!
We aren't in this to make big bucks and sell the company off, for us this is a family business that we want to be our long term gig (and give me a real shot of being able to work again!) Our loyalty and whole "raison d'être" is serving our members and keeping this community happy - a hopefully long term symbiotic relationship. Because we don't actually sell any products or plan to in the near future, the site will function more like a large guild or club rather than a shop or sales platform. That means we get to stay focused on providing the handy services and tools that aren't available anywhere else, while connecting you with all the people and businesses who sell sewing goods, plan events, teach classes, and create media/content.
Our ideals, vision, and mission for this project include:
Supporting our members above all to spend more time actually sewing! (Keeping things efficient on here; not trying to keep people on the site longer/unnecessarily.)
Focusing on making practical tools and solutions for things that don't already exist. (Building useful tools rather than creating more sewing "content" - lots of people are already doing a great job of that. Also, avoiding duplicating efforts, for example there's no current need for another mega pattern shop.)
Focusing on quality (but not perfectionism!) over quantity; not adding to the FOMO (fear of missing out) and constant pressure to make "the next hot thing".
Encouraging slowing down and enjoying the process. Stepping away from the rampant consumerism that is destroying the environment and exploiting less privileged societies.
Remembering the core spirit of DIY, crafting, textile art, learning, and creativity. Avoiding adding to the pressure to make for social media likes, or even use popular patterns, if that's not what's fulfilling to you!
Avoiding contributing to the social media popularity contest or "hustle" culture vibes online.
Placing sewing within the context of life - social, environmental, and economic systems that govern the world. (Remembering that everything we do has an impact, and that we're all influenced by our individual circumstances.)
Rallying the strength of the community to do good things in the world. Being conscious and conscientious about the impact of Textillia and the broader sewing community, and the potential of what we can do together.
Representing the true diversity of sewists. When we say this is a site for "all sewists", we mean two things:

Including people who make all kinds of things with fabric and thread (not only clothing, but any and all beautiful, practical, creative, weird, and wonderful or even just ordinary things!)
Welcoming and representing the diversity that truly exists within the sewing community (people of all races, ages, sizes, sexual orientations, genders, religions, and disabled, neurodiverse, and mentally and chronically ill people).

Maintaining a "safe space" - perhaps an overused and over-politicized phrase, but one that represents freedom from harm for marginalized people. When we say "all sewists" we do not mean people taking part in hate speech, racism, ableism, sexism, homophobia, transphobia, fatphobia, ageism, or other violence and discrimination towards marginalized groups. That will not fly here. If this is going to be a problem for you, then you will need to find a different community to join.
Additionally, we want to take a step back and just normalize kindness on Textillia - something that has been seemingly dwindling online. That means fostering a culture of mutual support and encouragement, and not being rude or condescending to other members. For example, we want to discourage giving unsolicited criticism of someone's garment fitting, or chastising people for things like using cheaper fabric or making beginner's mistakes. We know that a lot of rudeness, hate speech, and even abuse has been allowed on other crafting platforms, but it will not be here. We want Textillia to be a respite and supportive environment, not in a toxic positivity or "good vibes only" way, but in the sense that if you can't keep things kind and respectful, best to keep it to yourself.
We realize some people may not be used to these kinds of rules or expectations, but we aren't here to be like all the other platforms! We want to foster the sort of space and community online that we ourselves actually want to be a part of, and that means one that is nurturing, respectful, and supportive. We're being upfront about this, so that you can decide for yourself whether or not it works for you too.
What to expect for the big (out of beta) full launch/memberships rollout
As you might gather, making concrete "plans" is extremely difficult, if not impossible for us at the moment, so we don't have a specific date set at this point. That said, we do have a loose roadmap for the launch, and once everything we need to complete in preparation is "done done" and ready to go, we'll make an announcement (and notify all site members) that the 30 day countdown is starting. From that moment, everyone will have a final 30 days "free beta" period, before you have to decide whether to pay the annual membership fee to maintain full access to the site.
Your options at that point will be:
Support Textillia and pay the annual fee so you can have continued access to the entire site.
Do nothing and let your account go dormant for as long as you like, if you're not sure but think you might want to pay the fee and regain full access later on. (If you choose this, you will lose access to the members-only sections of the site temporarily, but your account and all the info in it will remain intact and you can revive it whenever you want.)
Delete your account, if you're sure you don't want to be a member and won't want to in the future. (Of course you can always return, but you'll have to start fresh with a completely new account.)
At the end of that final free 30 day period, respectively:
All members who've paid the annual fee will continue to have access to the entire site.
Accounts for existing members who have not yet paid the annual fee will go dormant, so you'll lose access to the members-only parts of the site (which will be the same as the current members-only areas you can see only when logged in).
New people who sign up after that will continue to get a free 30 day trial to check out the site, before committing to becoming a member.
Bruno has been diligently working away on the membership system to get Textillia out of beta, and the bulk of that is finished now - yay! We have a list of tasks to really finish it up fully, like some more testing, usability/accessibility tweaks, writing/polishing up text for emails and the membership system, getting our legal documents updated by our lawyer, getting all our bookkeeping + accounting set up with our new accountant, etc. So it'll still be a little while before we start the official "out of beta" countdown, but we'll be sure to keep you all posted when it's getting closer and we have a concrete date in sight.
Questions and concerns you might have right now
Is Textillia still in active development?
We've had a couple emails from people who had noticed the lack of activity on our social media accounts, wondering if the project is still active. The answer is a resounding "Yes!" While I've significantly wound down my social media/blogging/marketing activities, aside from the occasional Instagram post, it's only because I realized a while back that with what little time I do get to work on Textillia between my medical treatments, I need to ruthlessly prioritize spending my time actually working on Textillia, as in the website (rather than creating social media content). Bruno's been working hard behind the scenes, and we have so much more we want to do! But we have to put on our own proverbial oxygen mask first and now is the time - as much as we always want to add and perfect more bits, obviously we can't go on in free beta forever. Rolling out the memberships system is our priority #1 right now - and then the real fun starts when we get to go back to improving and adding to the site's functionality. We're as eager as anyone to move onto the almost endless list of ideas and plans, and suggestions from all of you!
How much will memberships cost?
In case you missed that, there's a (now very old) post here with more details. It's still relatively accurate but there will be more details to come about sliding scale payment options closer to launch.
I'm extremely low income and can't afford a membership, what about me? 
Don't fret, we've got you. Again, more details to come.
When will this happen!?
I wish we could give you a date, but the best we can do right now is assure you we'll give you plenty of notice when the final 30 days countdown begins.
Are republicans allowed on the site?
Without completely reopening that can of worms, we never disallowed republicans (or white people or Christians) from using Textillia. We don't equate being white or Christian or Republican with being racist. We have always disallowed hate speech and racism in our Terms of Service, which has been in place since we launched. We expect our members to abide by our Terms, which includes not engaging in racism, sexism, homophobia, or other forms of discrimination and hate speech against marginalized people on this platform. And if someone is in breach of our TOS, we retain the right to temporarily or permanently block their account and end their access to the site. The easiest way to navigate this is: if in doubt, do not post it. And if you aren't sure you'll be able or willing to abide by our TOS, then it's probably best you not join.
What guarantee can you give us that we're not just sinking our time and care into another sinking ship?
I know better than most people that nobody can tell the future and nothing is guaranteed. That said, we're still here after 5 years despite the enormous personal hurdles we've faced. We've outlasted several other sites/platforms that have come and gone since we launched. We have the basic skills necessary and have put half a decade of work, effort, and care into this project - not to mention that we've made a substantial personal financial investment getting this off the ground, all at the worst possible time in our lives. I know that for whatever reasons, despite all of that some people still won't give us a chance, and that is indeed a bummer. But if that doesn't show our commitment to seeing this through, I don't know what will! We truly want this to be a reliable long-term service for the sewing community. Only you can decide for yourself whether to give us a chance and help this project succeed.
How do we know you won't sell out?
Again, nobody can tell the future - but our entire goal is to provide a service to you, do good things with it, and support ourselves financially. We see this as a symbiotic long term relationship, and literally our only job (aside from doing good in the world whenever possible) is going to be to make this project the best it can be, to serve all of you and sustain our little family. If for some reason that was ever to change, all we can do is assure you we would tackle it in the most responsible fashion possible. We hope we've earned your trust enough at this point to know we are in this for the right reasons, and very aware of the leap of faith this we're asking and the responsibility it entails.
Sounds great! How can I help?
Three things as always:
Use Textillia! The more you use Textillia, the more the database grows and becomes useful for everyone!
Tell everyone who sews! Clothes, quilts, cross-stitch, anything with fabric and thread - let them know about us!
Donate! Whether time and energy or money, any kind of help is so very appreciated!
Become a paying member when we go out of beta! It'll be the best way to help Textillia keep growing!
We've got a great start, and we really hope that you can see the work we've put in so far and the potential that lies in Textillia's future. We're committed and excited about seeing this through into its next phase, and hope you'll all join us in making it possible. For now like for most people, we'll be taking it a day at a time - but we'll keep you up to date whenever we have major news.
We really hope you're all hanging in there okay - sending big solidarity and lotsa love from us to all of you!
(ps. Please log in to view and post comments!)