Hi everyone! You know how we like to be transparent about what we're doing here, so we wanted to share some of what's been going on behind the scenes for those of you who are interested in keeping up on that side of things.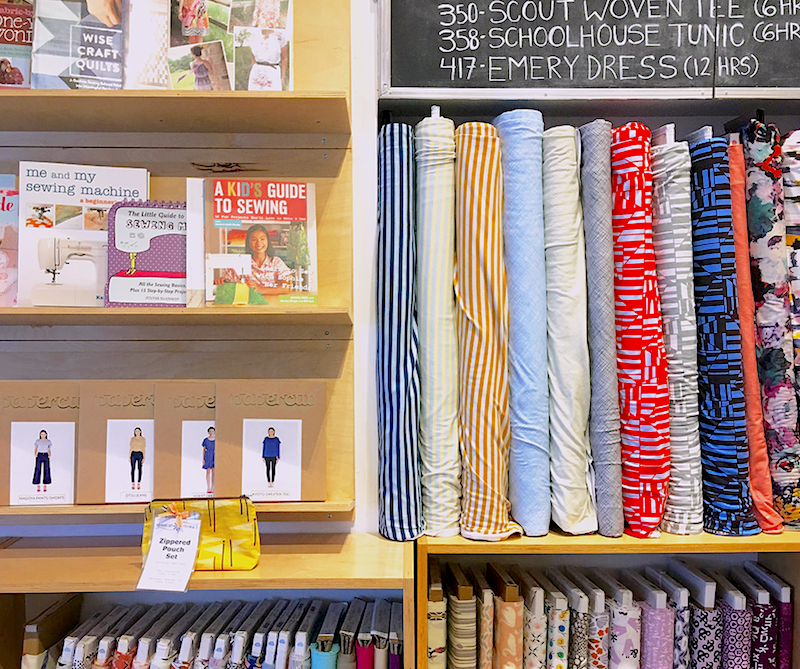 From a trip to my favourite local fabric shop Spool of Thread! (Not an ad, I just love them!)
Bruno spent most of the last quarter of 2017 working on preparations for getting out of beta, and in December he was focused on building out the membership system. This was meant to be the last piece of the puzzle before we could start the countdown clock to the official full site launch (which has been a long time in the making, so very exciting!) Going out of beta and finally having memberships set up was also meant to be a big step in overall progress of Textillia, as we intended to use that initial influx of membership revenue to fund the "big software upgrade" (from the now old Drupal 7 to the current version of the software we use called Drupal, Drupal 8). This should be the last "big" software upgrade we have to do, as after this version, the upgrades are broken up into much more frequent smaller upgrades, instead of one huge ominous one every few years.
But of course, what goes as planned? Bruno got about halfway through the membership system build - something he wanted to ideally do in Drupal 8, but took on in Drupal 7 for logistical and financial reasons - and broke the news to me: it wasn't going to work. The technology available in Drupal 7 for setting up a recurring subscription service just aren't complete enough, and are already becoming unsupported (too old). He would basically have to spend a ton of time building out missing components - something that's often avoidable thanks to the massive open source software community that contributes their work back to the Drupal community, so everyone can benefit from each other's work - that aren't even supported anymore. And not only that, but because it's all changed so much he'd just end up having to redo all the work during the upgrade to Drupal 8. It makes no sense to invest that kind of time when the whole point of getting the membership system up earlier was to help fund the upgrade!
We've had to accept this major delay in getting out of beta, and also another setback in how long it'll be until we have revenue coming in, i.e.. Bruno actually starts getting paid for the work he's doing building Textillia. (My getting paid isn't really an issue since as many of you know, I'm disabled and only work very small and erratic amounts right now, but Bruno having an income is critical to our personal financial stability since we're a one income household in a very expensive city!) We debated how to make this work, both for the project and for us personally. Should we take out a loan and pay another developer to make things go faster? Should we spend a bunch of time running a more proper fundraiser, and try to raise the money to fund the development that will get us out of beta? Should we just tough it out and live off our savings for a few more months?
In the end we chose the latter, as pragmatic and anticlimactic as it is. The fact of the matter is: the software available to build the membership system is much more advanced, stable, and secure (which is critical when we start handling people's personal and payment info!) in Drupal 8, and we need to get the software upgrade done anyway, so Bruno's just going to keep plodding along and we'll tough it out a few more months. We still have the utmost faith that when this all comes together, it'll have been worth the personal risk and we'll all end up happy and with a financially sustainable Textillia as our "family business", serving the sewing community for years to come, which is what matters in the end!
What does this mean to you, our members? Mainly that: A) using Textillia will remain free for a little while longer (don't worry, memberships are only going to be $20 USD per year after that - it's more like guild dues than a subscription!), and B) not much other functionality will be built until we're on Drupal 8 and out of beta. It's just a massive amount of work to do, so Bruno needs to stay 100% focused on this.
But once it's done...watch out, the world will be our ...gilded sewing machine? The big barriers will be behind us, and we'll be able to completely dedicate Bruno's development time to building new functionality and making Textillia more awesome for all of us! We're so close!!!! Thanks to everyone for your patience and sticking with us as we bushwhack our way through this adventure that is building an enormous website without any investors (so we can stay independent and awesome forever more, yay!)
Last but not least, while we decided not to do a formal fundraiser (mainly because it would take time away from actually doing the work that needs to get done), we always accept donations through our Donorbox page and are SO GRATEFUL to everyone who's chipped in to help cover our hard costs while we work towards the full launch. Thankyouthankyouthankyou!
Want to support us through this last push? Make a donation!
There you have it - so close, yet it feels so far! Patience is not my strong suit...but we're getting closer every day. We'll keep you posted, and of course if you have any questions, post them below (you'll need to be logged in) and we'll do our best to answer them.
Here's hoping 2018 is a big year for us all, and sees our hard work come to fruition!