Hey everyone - 
It's time for another big update of new functionality we've added to Textillia over the last week and a bit - Bruno has been busy! But first...
A quick PSA:
We've been having some issues with our website hosting provider (says every new website ever), so we're preparing to move to a new one before Bruno heads to visit his friends and family in Belgium for the holidays. This will mean a little service outage when we have to take the site offline briefly, so stay tuned as we'll be sure to announce when the planned downtime will be!
Now, here's the latest updates we've made:
Friending + friend updates on your studio page
Friending is here! You can now friend your friends! (Friend is a verb now, right?) Just look for the red "+ Add friend" button on their Member profile page.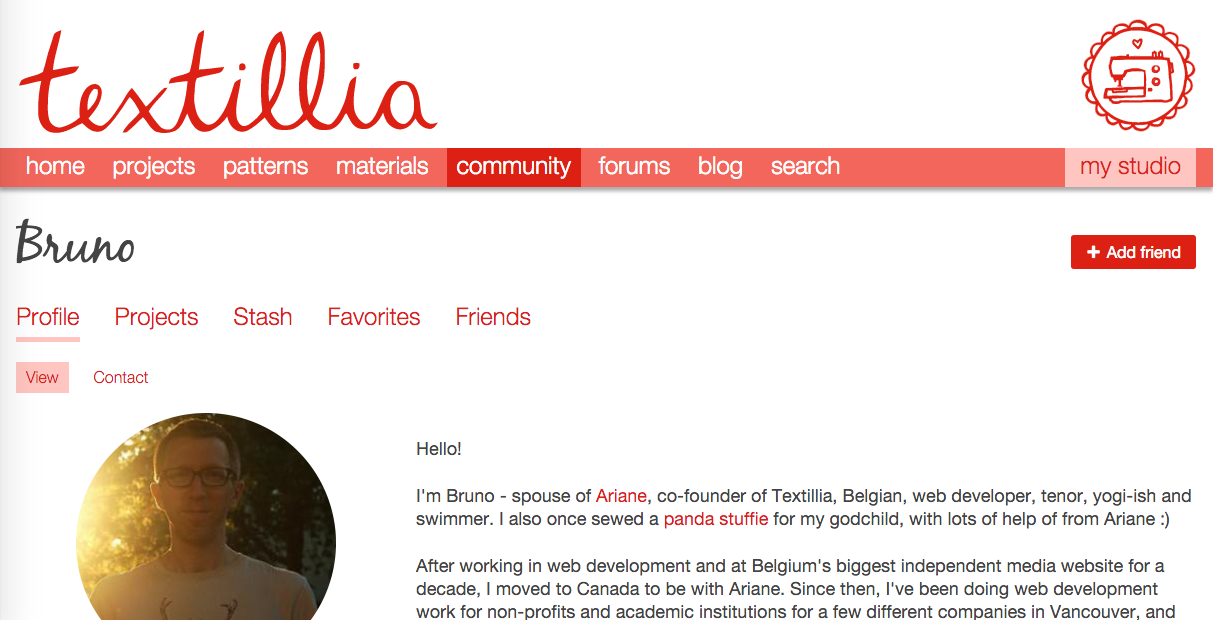 Once you friend them, you'll see lots more update messages on your "My studio" landing page, letting you know who they've friended, what they've favourited, what projects, patterns, and fabric they've uploaded, and more to come!
My studio has photos!
The "My studio" landing page update messages now have thumbnail photos with them! If it's a friending update, it'll show the friend-er, and if it's about a project, pattern, fabric/collection, or thread, it'll show an image of that item. When it's a forum thread or there's no image, you'll just get the little logo stand-in. It's so great being able to see what the updates are about at a glance!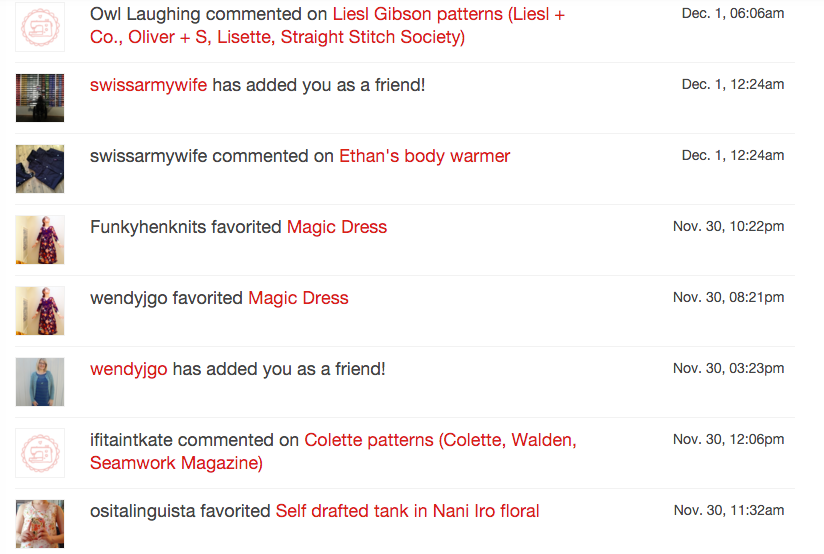 Comment subcriptions and messages
We've expanded on the comment notifications we implemented a couple weeks ago, and given you more fine grained control of comment notifications (and their respective messages on your "My studio" landing page).
If you're the page's author, you'll still automatically be subscribed to get notified when someone comments. If you're not the author of the page, now when you comment on a forum thread, a blog post, or someone else's project, you can also subscribe to get follow-up comment notifications.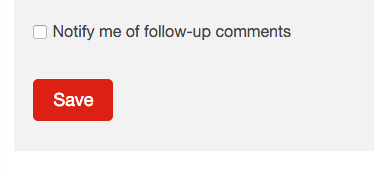 Once you're getting notifications, you can unsubscribe from them anytime via the link at the bottom of that page (there's reminders in the emails on how to unsubscribe). This per page checkbox and link will subscribe and unsubscribe you both to/from email notifications (if you have them enabled on your account) and update messages on your "My studio" landing page.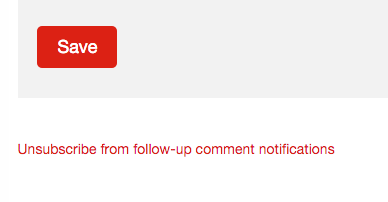 Just a reminder - you can disable and enable ALL email notifications about friending and comments at the bottom of your account settings page. If you're not getting any notifications, then the first thing you should do is go into your account settings and make sure they're enabled!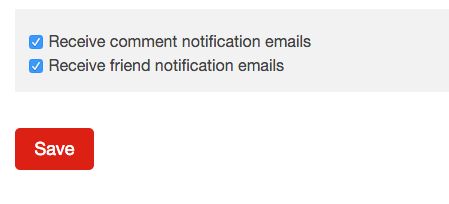 Add Project buttons on Patterns (and all action buttons moved)
A couple people requested this and I also found myself looking for it, so it's been added: an "Add project" button on Pattern pages, so you can easily add your project made with the pattern directly from the pattern's page. Look for it in the upper right corner - in fact, we've moved ALL of the "Add" action buttons to that same spot in the top right corner, so it's consistent and you're not hunting around the page for it. In the coming days, more of these buttons will be added, including an "Add pattern" page on the Designer/Company's Patterns tab.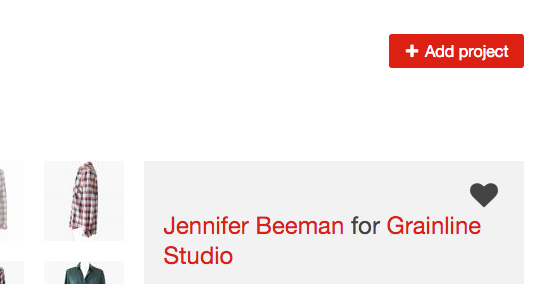 Bigger thumbnails
In lots of spots we were finding the thumbnail images to be too small to really see what was in them, so you'll notice larger thumbnails on various pages, such as the Projects tab on Pattern pages, and the Patterns tab on Designer/Company pages. Now you can actually see what's on the page at a glance without having to click through!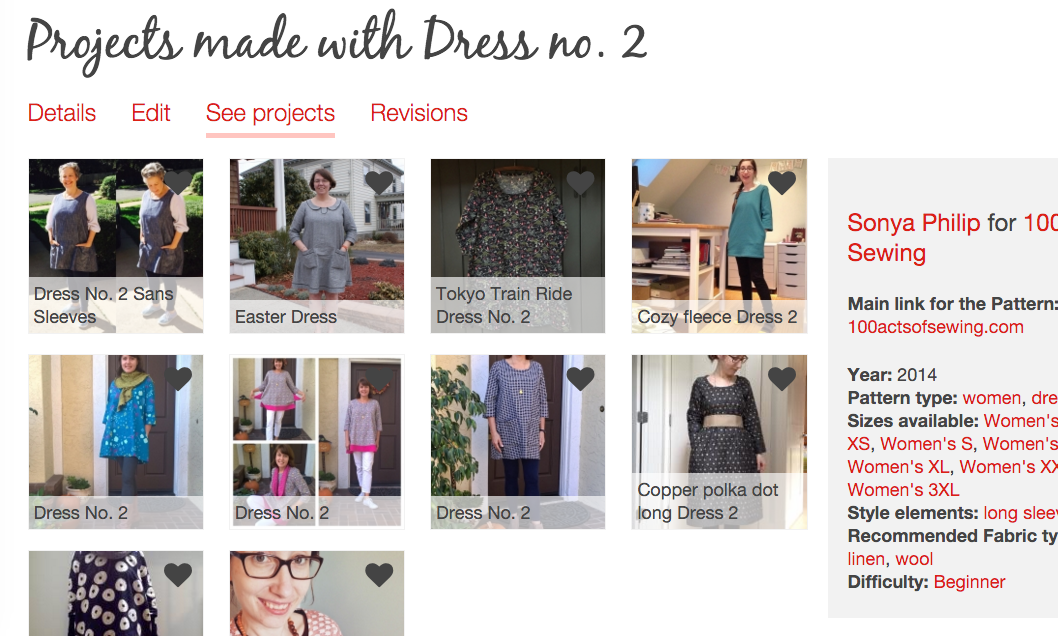 Tags and properties on Fabrics, Fabric collections and Patterns are links!
When you're on a Fabric, Fabric collection, or Pattern page, you'll notice most of the tags and properties in the grey box in the sidebar have become links! Those links take you directly to a search results page that displays everything with that tag. So if you click on "Women's XL" on a pattern, you'll see all patterns on the site available in XL (and you can further refine the search from there). And if you click on "double gauze" as a suggested fabric for a pattern, you'll end up on a page that shows all patterns suggesting double gauze. If you are on a Fabric, and click "quilting cotton", you'll see all fabrics that come in quilting cotton. And on, and on, it's really handy!
Homepage Blog section
The Blog section on the homepage has a different layout - the original design was pretty but it was too restrictive to work with. Now we've got a new layout as well as headlines of the latest posts so you can catch up on posts you missed more easily.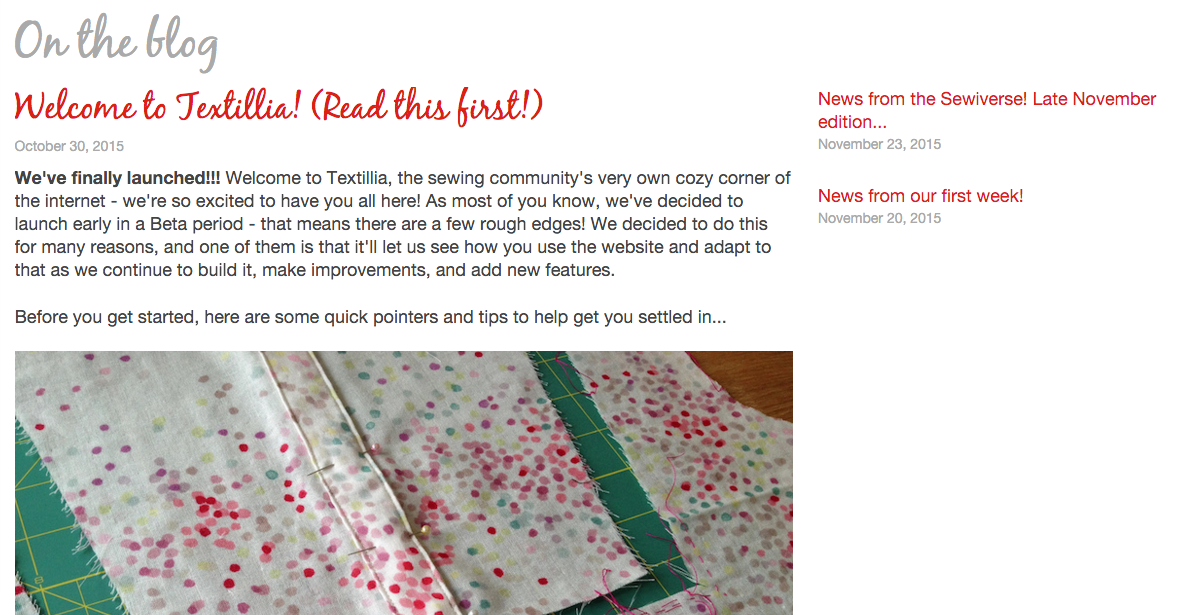 News from the Sewiverse
Our first edition of "News from the Sewiverse" was published last week. It's a review of pattern releases, podcasts, blog posts, and other bits and pieces we think you'd want to know about. Let us know if there are bits you like, or things you want to hear more about in the future!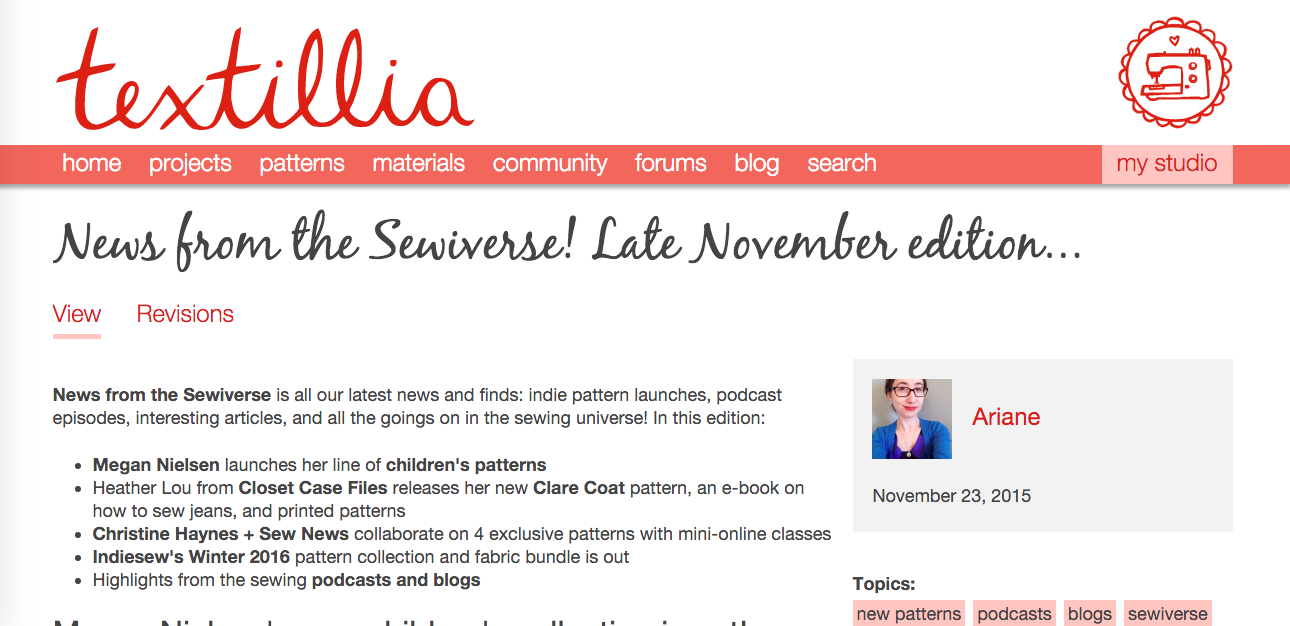 Other bits
The "no results" text for search/landing pages has been added so you can actually tell when there were no results, instead of wondering if your search worked.
We've improved error messages for when you're on a form and try to reference/link to content that doesn't exist.
Last but not least, and much requested, the file upload size limit has been increased! Now you shouldn't have to resize your photos before uploading, cause that's a big pain in the butt!
Tumblr/RSS for blog
FYI: We've started cross-posting our blog posts to a Textillia Tumblr so that there's a publicly accessible version of the blog (or at least selected posts - we may decide to make certain posts members-only in the future). If you're on Tumblr or use RSS to read blogs, this is a handy way to follow our blog!
That's it for this round - thanks for all the awesome feedback and suggestions you've been giving us, we read every one, and really appreciate hearing what's working for you (and what isn't!)
Till next time!
~ Bruno and Ariane