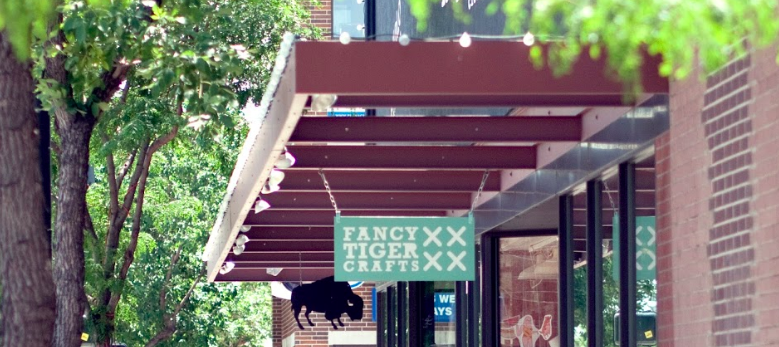 Fancy Tiger Crafts is a revolutionary shop in Denver, Colorado that specializes in craft supplies and classes for the modern crafter. Owners Jaime Jennings and Amber Corcoran's vision is to inspire people to reach their crafting potential through modern and sustainable supplies and quality instruction. We believe that making things by hand makes people feel better and that if more people made things, the world would be a better place.
Fancy Tiger was opened on June 16th, 2006 at 1 S. Broadway in Denver. This tiny DIY boutique paved the way for the recent revitalization of the Broadway shopping district. On January 1st, 2012, Fancy Tiger Crafts moved just up the street to a larger, newly renovated location at 59 Broadway. The current shop features two large sewing studios and an expansive community space for events and handcrafting. In 2014, Jaime and Amber opened the online store to share the love and inspiration of their little brick and mortar to the world beyond Denver. 
Jaime and Amber host our Open Craft Night every Tuesday night and we'd love to meet you! Bring your project and knit, spin, crochet, or embroidery with us from 6 – 9pm. If you're ever in the neighborhood, please visit us and say hi! For more info about their patterns and classes, head on over to the main Fancy Tiger Crafts page.