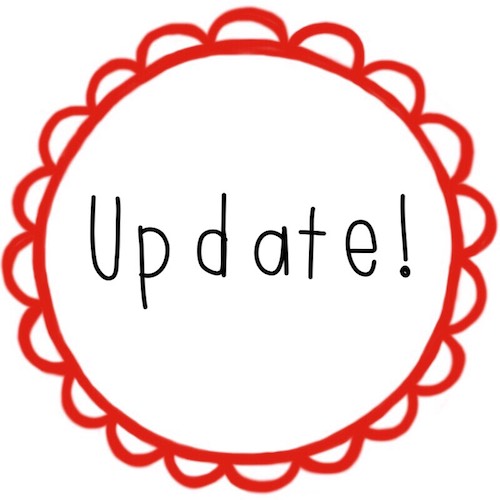 Hey folks!
I debated whether this warranted an official blog post, but decided it was the best way to reach those who don't follow us on Instagram. I wanted to let you know that I'm going to be taking a little break from posting on Textillia's social media, and further scaling back my presence here - just temporarily, barring any unforeseen events.
It's for a good reason, as *drum roll* I finally got a diagnosis for the mysterious progressive illness that I've been so debilitated by the past several years! I'll spare you the details here, but the condition is autoimmune so it should be treatable. Not curable, as it is a chronic condition after all, but if I respond half decently to the treatment, I should be able to function quite a bit better. Some people respond quickly, others take from several months to a year, so it's still going to be a long road, but I finally have a diagnosis and treatment plan, and real hope to get at least somewhat better (or at least stop getting worse)!
I'll try to keep an eye on the forums and my email inbox to respond to anything urgent/time sensitive, and keep up with the weekly homepage features as on-time as possible. But, I'm probably going to be pretty MIA, especially the next month or two while I get through some remaining testing and the treatment kickoff (which is known to make people feel really horrible). Bruno is still around and working on the upgrade, and will be checking in for anything urgent, but he'll also be scaling back his work hours during my heavier medical weeks. So if I/we kind of disappear or seem absent or slow to respond in the next few weeks, this is why. We wanted to let you all know well ahead of time, so that nobody worries we've abandoned the project or something like that!
If you need help, posting in the forums instead of messaging/emailing me will be the best, as then multiple people will see the message and potentially be able to help. If any existing moderators (or anyone who's been using Textillia a lot and would like to become one - drop me a note here) can help keep an extra eye out especially on the forums, and with helping to polish up pattern pages that get added and need work, that would be fantastic! And apologies in advance for any inconvenience our slowness/absence brings - we are really thankful for everyone's patience and support.
Thank you to everyone who's celebrated this breakthrough with us - I'll happily soak in any good vibes and prayers during this hopeful, but still scary and difficult time. I'll still be around a bit until things really get going treatment wise, but I wanted to post this before things get too hectic in case I suddenly disappear off the face of the earth for a bit.
I'll see you all - hopefully on the way to getting stronger and feeling better - on the other side!