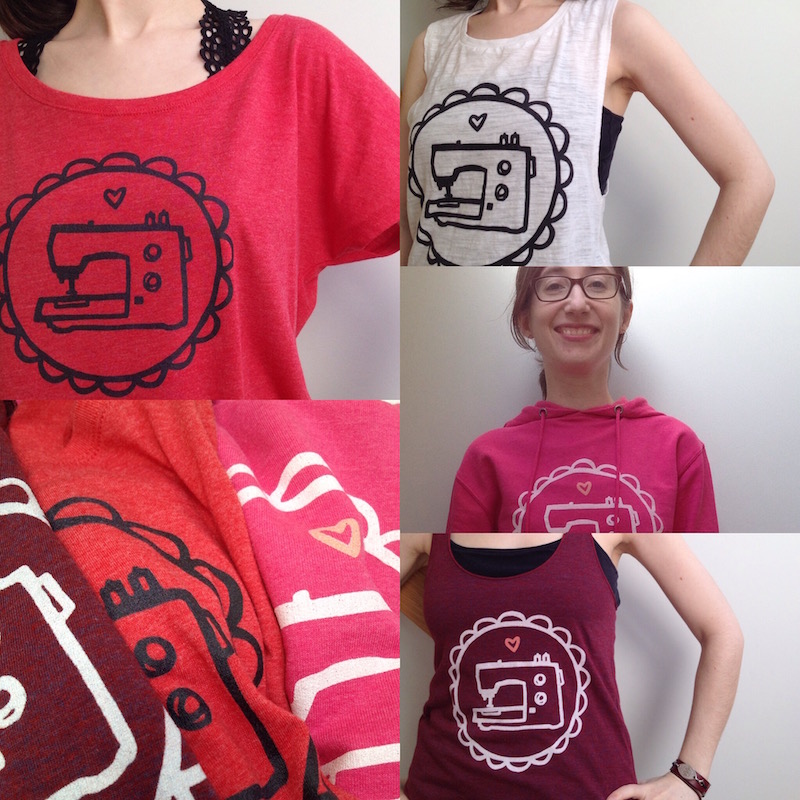 Since everyone who responded on Instagram was keen for us to go ahead with the print on demand shirts, we're going for it! Here are some photos of the shirt samples we got, and info below that about the shirts and how to order. Every shirt ordered helps fund development of Textillia.com and also makes you the coolest quilter or sewist around. :)
Use the code FREESHIPc40446 through November 21st for free shipping on all orders over $45 US / $80 International! (Code is valid from now until 1/21/16 extended to Nov. 24 at 11:59pm CST.)
Here are some photos of my favorite styles - lots more colors and styles are available over in the shop.
Women's Dolman in Heather Red
Great loose (but still true to size) easy to wear style, and a slightly curved hem. Soft, stretchy cotton/poly blend.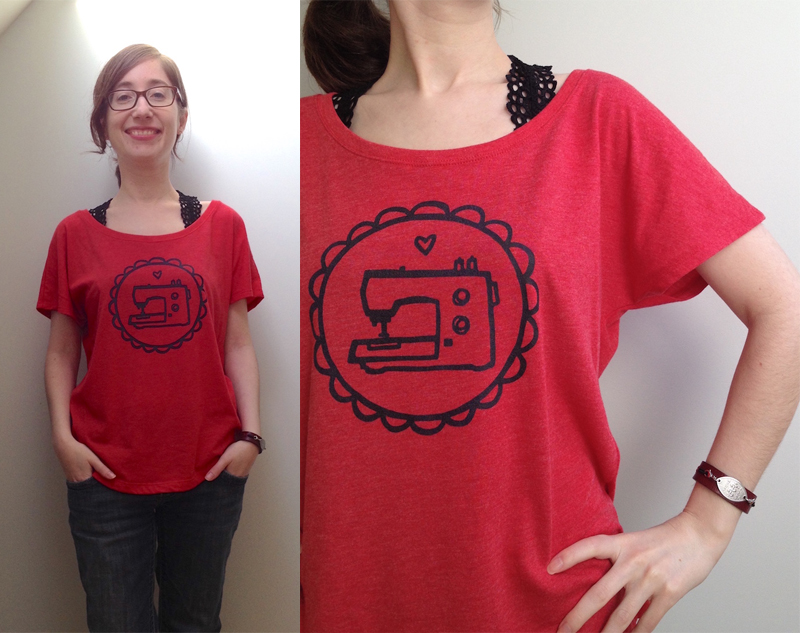 Women's Muscle Tank in White Slub
High neck and low cut armholes, slightly long straight hem. The ink looks almost like a dye on the slub cotton version, and is more soaked into the fabric giving it a vintage look.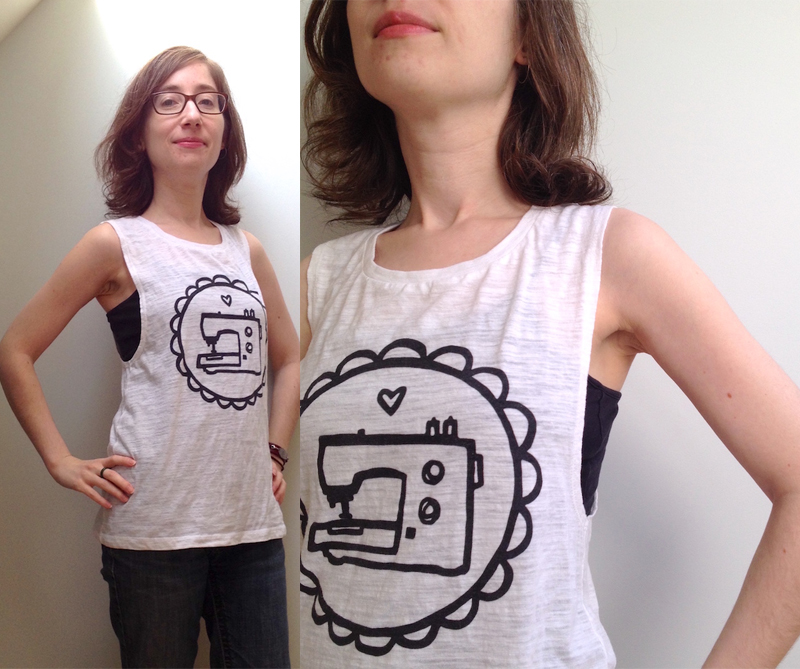 Women's Longsleeve Scoopneck in White
Drop shoulders and a bottom band, in lightweight French terry style cotton fabric.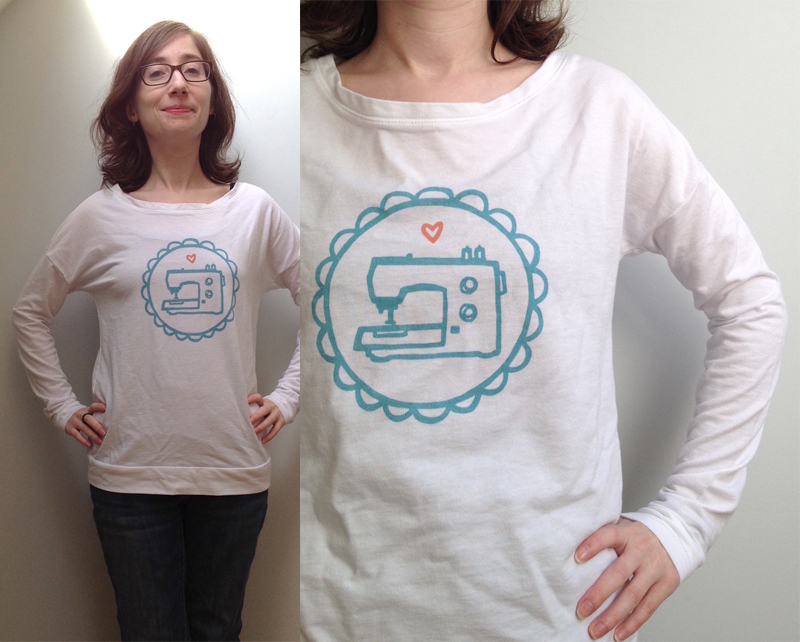 Women's Pullover Hoody in Heather Heliconia
A classic hoodie, true to size (not super baggy), in lightweight French terry style cotton fabric.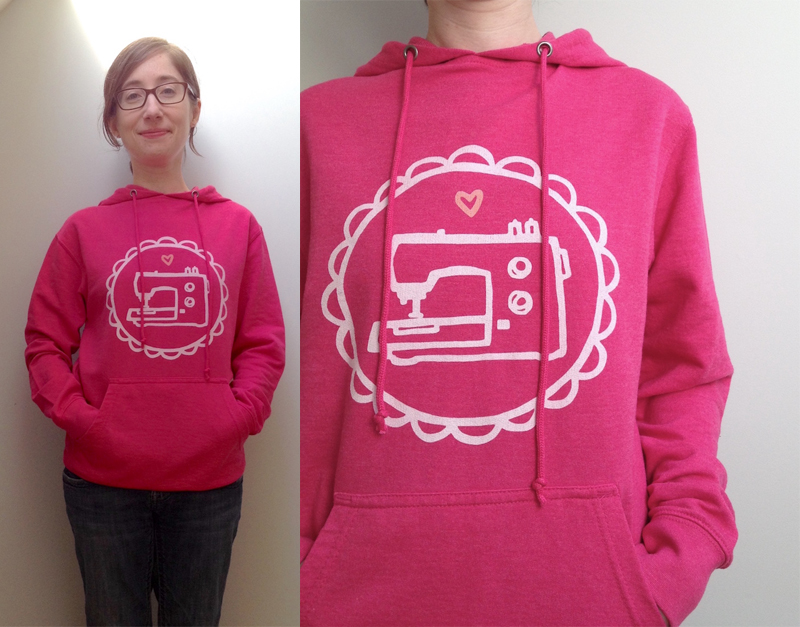 Women's Scoopneck in Chili Red
Flattering scoopneck and slightly longer hem, in soft, stretchy poly/cotton blend.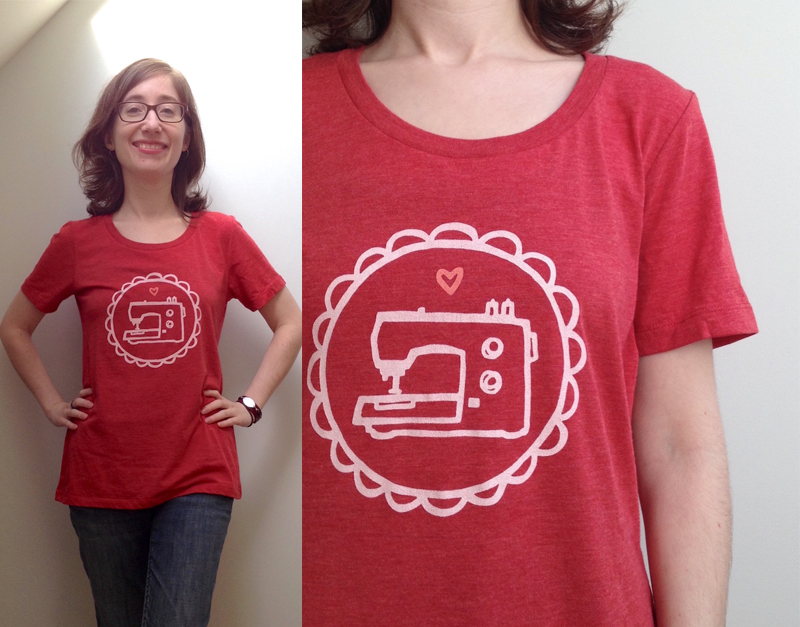 About the shirts + ordering
Because we're using a print on demand service, all inquiries about ordering and terms of service are controlled by the printing company, Threadless, and you'll need to contact them if you have any problems ordering or once your shirts arrive. (More info about ordering and shipping + returns.)
Note: The white version on the sample now has a white heart rather than pink, as you can't tell from afar, but the solid colors did not print well.
Prices are in USD and shipping is available to most countries.
Because shirts are print on demand, Threadless does not accept returns, but they will replace defective items (you'll need to contact them directly in this case).
We recommend that you wash the shirts on cold (preferably inside out), and hang dry for maximum longevity and least shrinkage.
The sweatshirts, hoodies, and women's longsleeve scoopneck (which has drop shoulders and a bottom band) are a thin french terry style fabric.
The triblend t-shirts, women's scoopneck tee, and dolman are poly/cotton blend and more drapey and stretchy than the regular cotton t-shirts.
Shirts come from a variety of companies - be sure to check size guides for each different style! All appear to have some level of fair trade/sweatshop free certification or labeling on their websites. Brands included: Anvil, Delta, Bella, Next Level, American Apparel.
For scale: my samples are the smallest size available in each option, and I'm 5'1".
Why we chose a Threadless Artist's Shop
In case you're curious, because we don't have the capacity (and it's not actually legal for home-based businesses in Vancouver!) to store and ship shirts from our home, we chose to do this first foray into shirts via a print on demand service that uses direct to garment printing. Some of you will know the company we're using, Threadless, from their infamous graphic tees - we went with them for several reasons:
They completely manage printing and shipping.
They ship almost everywhere!
Reasonable pricing.
Sweatshop-free shirts.
Huge selection of sizes, colors, and styles.
Acceptable quality (at least for the black and white ink, on most substrates). Note that the ink is much thinner than with screenprinted shirts, it's more like a graphic tee you'd find in a big store, or on sites like Threadless and other print-on-demand websites.
We did run into a couple hitches. The colored inks didn't look very good as solids, so we're only doing the black and white ink for now. And the ink is quite thin and looked particularly fragile on the tri-blend racerback tanks, so we decided to leave those out as they were cracking after just one wash. If you desperately want to take your chances with the racerbacks (I know they're super cute!) let me know, and if enough of you do I can add them to the shop - but I think you'll be happier with the quality on the other items!
UPDATE: We've added red logo on white/cream shirts! The slight yellow halo around the red ink, which we were concerned about, washed out after a couple washes, and now the red on white shirt looks great. :)
If you have any questions, let us know in the comments and we'll do our best to answer them.
p.s. Be sure to tag any photos of yourself in your shirts with #textillia on Instagram so we can see you in them!!!