Hey everyone, hope summer is treating you well! In case you don't follow us on Instagram or missed the post, we'll be a bit less active on the newsletter and blog post front over the summer, while I take a little breather and try to get this pesky arthritis flare to calm down. But fear not, we're not going anywhere! Textillia is still open 24/7 for you to hang out, search the database, and plan and post your projects - plus, Bruno has commenced on the gargantuan task of implementing Groups! He'll be focusing on that for the remainder of the summer, but we'll also try and squeeze in a few smaller bits here and there. Without further ado...
The Books Section!
The first part of Textillia's new Resources section is up: Books! The books section works much like the patterns and fabrics sections. You can help build it by adding books that are missing, and filling in all of the fields as completely as possible so they show up in the right places around the site (like the author's page, the pattern pages, etc.) As usual, just search for the book you're looking for, and if you don't find it, add it!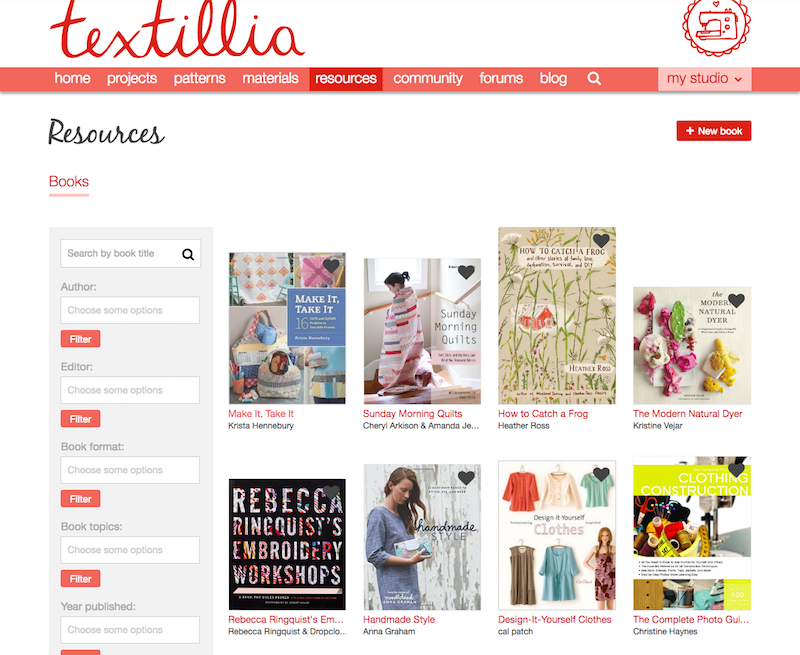 Pattern books
All kinds of sewing, quilting, embroidery, and textile art related books are welcome - from novels and historical/cultural books, to pattern books (of course!) Once a pattern book is set up, it will show a listing of the patterns included in the book. And when you're on the page for a pattern that's from a book, once it's linked up with the book it's from, you'll see the book's cover in the sidebar and be able to click through to the full book. As an example, here's the page for one of my most used pattern books, Simple Modern Sewing: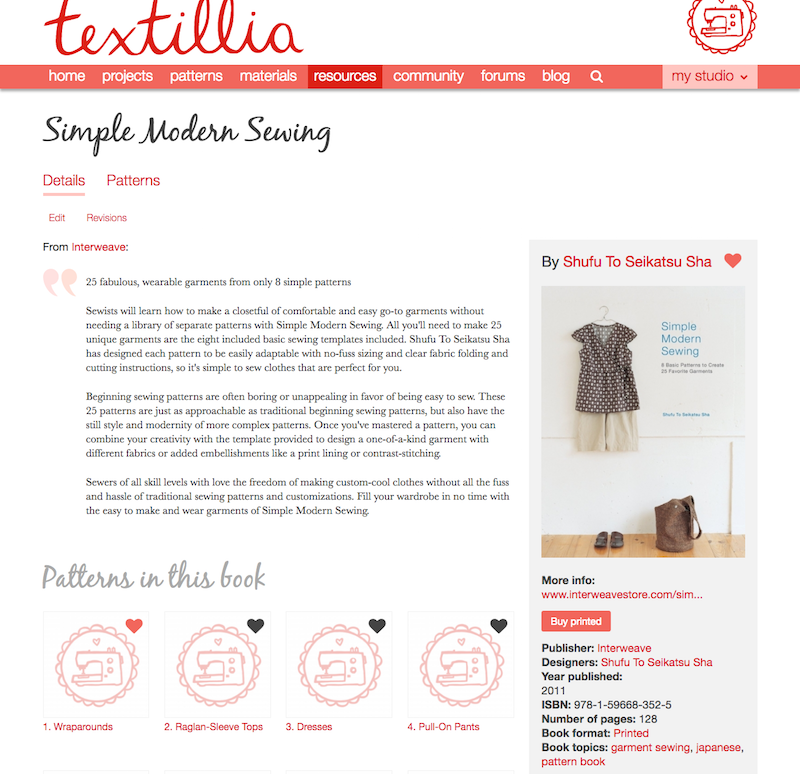 And here's one of my favorite patterns from that book - you can see even though we don't yet have rights to the book images (more on that below), there's still a bunch of info about the pattern, and also example projects made with it so you can see what it looks like: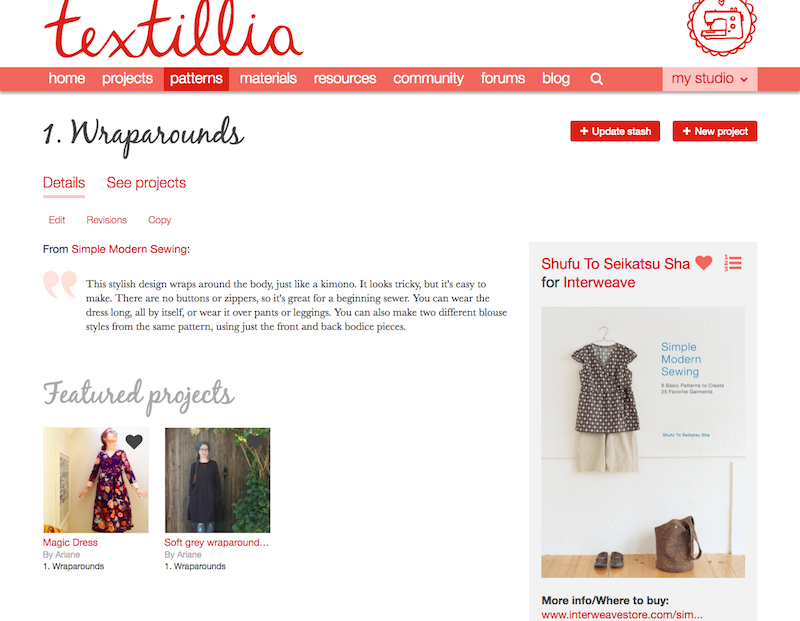 Images from books
The main difference between books (and patterns that are from books) and other patterns is using the images. Books, and images from them, have heavy duty copyrights, so aside from the cover we can't upload photos from them unless the author/copyright holder has given explicit permission. So, when you go to add a pattern from a book or a new book, you'll see some new checkboxes asking about whether copyright permissions have been secured for the photos, and if so who provided that permission. Currently anyone can fill those out, but only members who are Admins, Moderators, or Business Members can actually upload the additional images. (If you're a book author/editor/rights holder, you'll need us to mark you a Business Member before you can upload additional images, just drop us a line!) Just read the help text on the fields, and it will guide you through.
In practical terms, what this means is that in time, either someone will have to individually contact authors and try to get permissions, or - and this is what we hope will happen - like on Ravelry, eventually more of the authors and publishing companies will join Textillia and upload the images themselves. Once additional images are uploaded, the page will look more like the usual pattern pages you're used to seeing, and the book pages will show thumbnail/preview images on all their patterns.
How to help!
How you can help with building the Books section:
Look for books that you like or own that are missing and add them.
Look for pattern books that have incomplete pattern listings, and complete them by adding the patterns to the database and linking them up with their books.
Add any projects you've made from patterns that are from books (and add the books/patterns if they're not there yet).
Spread the word about Textillia, especially to anyone who has written, edited, or worked with sewing books, so that more designers, authors, and companies join and add their images and books to the database! 
Hope that gives you a good overview, but feel free to post any other questions below!