The Textillia Stash-a-thon kicks off this Saturday! We'll be in full Stash-a-thon party mode all weekend! Bruno and I will be hanging out in case you need help with anything, and I'll also be working on logging my own stash in between helping everyone out. Help us build the database while getting a bunch of your pattern and fabric stash logged - it's also a great excuse to go through your stash and see what's in there!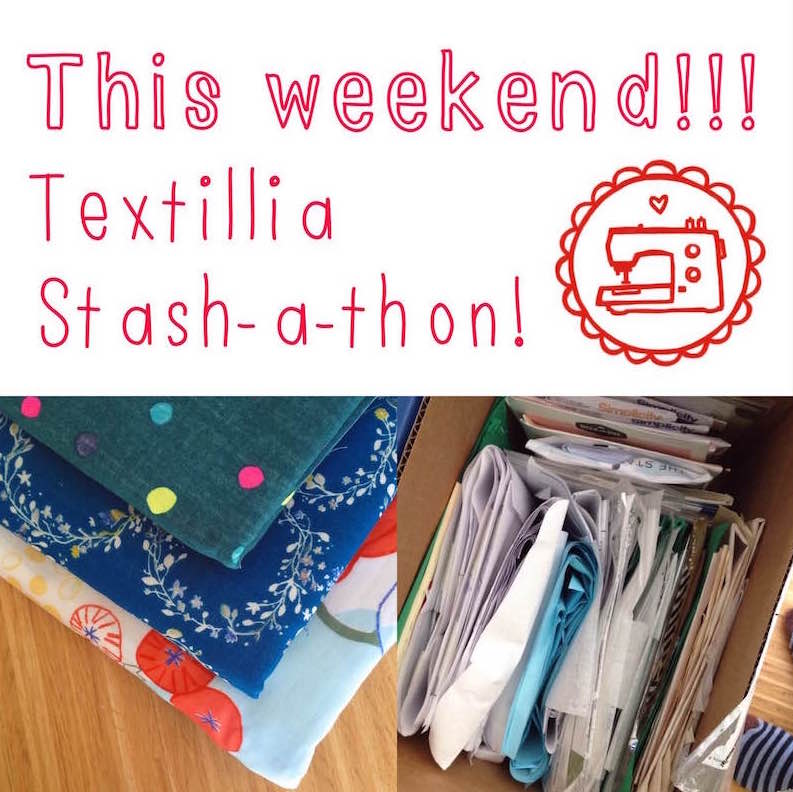 WHO
All of you! The more the merrier - let's make it a proper stash-a-thon party! :)
WHAT
This Stash-a-thon will be focused on logging individual PATTERNS and FABRICS. Please hold off on adding patterns from books or magazines, or any fabric pre-cuts (like jelly rolls, charm packs, etc.) as we'll have special functionality for those coming out in the near future!
WHEN
We'll be around starting Friday afternoon Vancouver time (PST) for anyone on the other side of the globe and any keeners who want to get a head start, and then Saturday and Sunday (May 14th + 15th) will be the main Stash-a-thon. And of course, lots of us have bigger stashes than what can be logged in a weekend (understatement!), so don't stress - just do what you can! We can definitely have more stash-a-thons in the future, and also keep working on it in our own time. :)
WHERE
Right here on Textillia.com and around the world wherever you live! We'll be keeping in touch via the forums and also be sure to use the #textillia tag on Instagram so we can find each other there!
WHY
Several early Ravelry members told us that they did similar group projects to help get the database built and organized, and it sounded like a fantastic idea. The Stash-a-thon's goals are: 
To get each of our pattern and fabric stashes logged on Textillia.
To add missing items to the pattern and fabric database, and complete/organize what's there.
To bring the community together and get to know each other more!
You're helping everyone else out with any new items you add, and this group effort will help make Textillia into an even more amazing resource for the sewing community, for years to come!
HOW
Here are the most important steps of the process broken down, to help make this a seamless (hee hee) process:
Always search first! Check if an item is in the database before you add it, and when you're adding it, type slowly in the reference fields (like Company, Designer, etc.) and spell carefully to see if the entry is already there so you can select it. This will help avoid creating duplicates, which can be a lot of work to clean up later. If you're in a hurry, best to leave anything out if in doubt - someone else can come along and add info later, but adding incorrect info can be hard to catch later on. You can even just add a pattern's name and designer, and then move along - that's enough for someone else who has time to find and fill in the other details. 
If you find an item is in the database, yay! Go ahead and stash it with the info about your individual item.
If you have a little extra time, look over the item's page and if you see any missing or incorrect info, go ahead and fill it in. This could include filling in all the tags/categories at the bottom of the form, or adding images and links. If you add or find an item that is incomplete and needs some more info, pictures, etc. added to it yet but if you're in a hurry, then just look for the little "flag" icon in the sidebar (note: this doesn't exist yet but will be there by the weekend!) Click that and check the "needs work" box. This will help others who have some time to volunteer find it later and fill it in.
Watch as your stash pages fill up with super useful, well organized info about the patterns and fabrics you own! And see how now even more info shows on patterns you own that are in your queue! Now you're all organized and it'll save you time down the road! Note: In case anyone is concerned, be assured that even though others can see what items are in your stash, only you can see the other info on your stashed items, such as the quantity of fabric, prices, purchase locations, and notes.
Give yourself a big high-five for helping to build the Textillia database, you are awesome! :)
We're really excited about this and hope that loads of you will be able to join in the fun and help make Textillia the best online resource for the sewing community!
ps. Call for Community Moderators!
Are you interested in becoming a volunteer community moderator? (This is a non-technical role, no need to be web geeky, just sewing geeky!) This is our first call for moderators, and we're looking for anyone who is comfortable using the site (and has a good grasp on how to properly enter database items). Aside from that, our only requirement is that you are friendly and supportive, and want to help create a good vibe for the community and make Textillia awesome! Things we can already use help from mods with include:
Keeping the database as tidy and complete as possible.
Keeping an eye on the forums, and helping reply to people if you know the answers to their questions.
Spotting particularly beautiful projects and featuring them on their pattern and fabric pages (and leaving a note for the maker about their project being featured).
As time goes on there will be other things to help with, and it's all just "help with what you can" - no specific time commitments required, as long as you're regularly active and around on the site it's all good. If you're interested, please drop us a note through the contact form! Thanks!!!