Big news: Textillia's homepage, and Patterns + Fabrics sections are now and forevermore PUBLIC!!! This means that if you aren't a member yet or you're not logged in, you can see the homepage (minus the featured projects), and search the patterns and fabrics database! Projects, member profiles, commenting, etc. are still members-only, but now everyone can get a good feel for the site before joining. All part of our "get out of beta" preparations!
And in case you missed it, the Textillia blog now has an RSS feed and we're also on Bloglovin' (both links are also at the bottom of the site) - be sure to subscribe so you don't miss out on any posts! (You can keep an eye on the updates thread in the forums for more detailed announcements of all the new features on Textillia.)
Now, onto the news...
News from the Sewiverse is all our latest news and finds: indie pattern launches, podcast episodes, interesting articles, and all the goings on in the sewing universe! In this edition:
Closet Case Files Sophie Swimsuit 
Creativebug Indigo Dyeing + Fancy Tiger Adventure Tank
Grainline Studio Penny Raglan
Alison Glass garment, quilt, and embroidery patterns
Marilla Walker Bennett Dress
Sew House Seven Tea House Top and Dress
Compagnie M Noa Pants and Shorts
Straight Stitch Designs Carkeek Dress
Fancy Tiger Crafts Wanderlust Tee
Compagnie M Susanne Cardigan
Anna Rifle Bond for Cotton + Steel Les Fleurs
Carolyn Friedlander Crew Pincushion
Tilly and the Buttons Marigold jumpsuit and trousers
Megan Nielsen Reef Camisole + Shorts
Events and Workshops
Best of Blogs + News, and Podcasts!
Closet Case Files Sophie Swimsuit
Heather Lou from Closet Case Patterns has done it again, with a new swimsuit pattern that will be a go-to for years to come. The Sophie Swimsuit can be made as a one-piece or a high waisted halter bikini, both classic and feminine. Be sure to read her launch post for details on limited edition kits and an online step-by-step workshop on how to sew the swimsuit of your dreams.
Creativebug Natural Dyeing with Indigo
Creativebug has a couple great new sewing and textile classes out. First up, Natural Dyeing with Indigo with A Verb for Keeping Warm's Kristine Vejar! So fun to watch and a really great walk through of how to get started with natural dyeing at home.

And just released is a new sewing class with Fancy Tiger Crafts: The Adventure Tank! This tank pattern comes in both a muscle tank and a racerback, for all your summer adventures. (The pattern will be available directly from Fancy Tiger Crafts on July 1st.)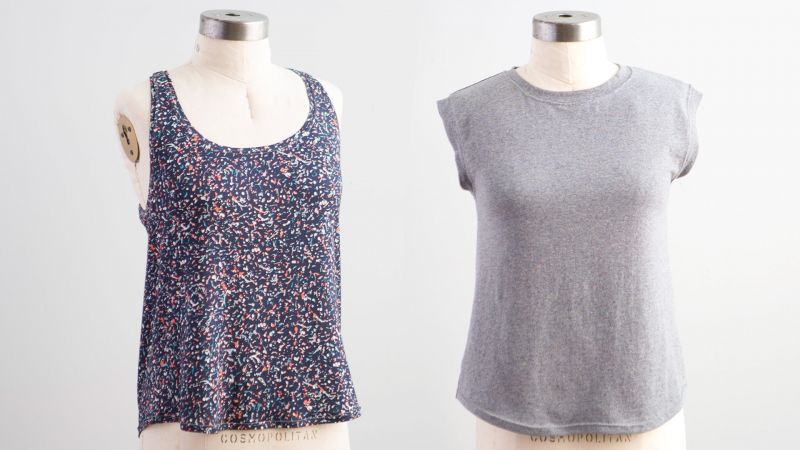 Grainline Studio Penny Raglan
Grainline Studio has a new easy to make and wear tee, the Penny Raglan. Great for layering, this is a light and breezy polished alternative to a standard knit tee.
Alison Glass garment, quilt, and embroidery patterns
Alison Glass Designs has a TON of new patterns out for summer, including garment pattern collaborations that you can use to build an entire wardrobe, quilt patterns by various designers, and pre-printed embroidery sampler patterns, many of which come as kits. I've added a few to the Textillia database so far, but you can see all of them on Alison's website. Here are a few of my favorites:
Alison Glass Woven Essentials with Karen LePage
Build an entire wardrobe with the Woven Essentials and Knit Essentials collections patterns designed by Karen LePage and Alison Glass. The Woven pattern's back cover gives you an idea of how versatile each collection is (click the image for more info).
The Luminary Quilt by Jamie Swanson
I may have seen the Luminary Quilt on Instagram and gasped, it is an absolutely stunning modern interpretation of a traditional lone star quilt, designed by Jamie Swanson for Alison Glass Designs.
Clover Sunshine Needlebook Cover
One of her new embroidery patterns, the Clover Sunshine pre-printed embroidery sampler from Alison Glass is just perfect for turning into a super cute needlebook once it's done.
Marilla Walker Bennett Dress
Marilla Walker's most recent dress pattern, the Bennett Dress, has two variations with very different looks.
Sew House Seven Tea House Top and Dress
Sew House Seven's Tea House Top and Dress has a pretty sash belt and interesting panels that allow you to play with the direction on patterned fabric.
Compagnie M Noa Pants and Shorts
The new Compagnie M Noa pants and shorts pattern for kids (all genders!) is a SUPER cool pattern with all kinds of creative ways to mix and match fabrics, and it's part of their new basics line, so it only costs 5 Euros! I really wish they came in grown up sizes!!!
Straight Stitch Designs Carkeek Dress
A fun quick sew, this free summer dress pattern from Straight Stitch Designs, the Carkeek Dress will be great on hot summer days, and transition to cooler weather with some leggings or tights. 
Fancy Tiger Crafts Wanderlust Tee
Looking for a t-shirt pattern that's easy to make and looks polished? Look no further. The Wanderlust Tee from Fancy Tiger Crafts is one of those patterns you'll make over and over and end up living in.
Compagnie M Susanne Cardigan
I don't know how this slipped through as it's been out for a few months, but speaking of Compagnie M, their Susanne Cardigan (which comes in a kids version too!) has an interesting construction that can be accented in all kinds of creative ways!
Anna Rifle Bond for Cotton + Steel Les Fleurs
It was hard to miss during Quilt Market, but Anna Rifle Bond of Rifle Paper Co. has designed her first fabric line for Cotton + Steel. The entire "Les Fleurs" collection is on Textillia now, so make sure to upload your projects using it once it's in stores!
Carolyn Friedlander Crew Pincushion
For all the pincushion nerds out there, Carolyn Friedlander knows the truth: one pincushion cannot serve all your pincushion needs! Her new Crew Pincushion set pattern is for - count 'em - 11 different pincushions, some of which are wearable!
Tilly and the Buttons Marigold jumpsuit and trousers
Jumpsuits are not just for kids, especially when they are this pretty and put together! Tilly and the Buttons' new Marigold Jumpsuit pattern also includes a variation of simple trousers. 
Megan Nielsen Reef Camisole + Shorts
Perfect for lounging or pajamas, Megan Nielsen's new Reef camisole and shorts pattern will keep you comfy and also adequately covered up thanks to a high cut racerback neckline.
Events and Workshops
Stitch at Sea II (Vancouver, BC to Alaska, September 11 - 18, 2016)
Last call for Stitch at Sea II! Learn Krista Hennebury's beautiful Cutting Garden quilt pattern while having the time of your life and seeing icebergs on a cruise to Alaska! Only a couple spots left!
Colette Book Club: "The End of Fashion" (Online + everywhere, through August 4, 2016)
Colette's Book Club with Kat Siddle just started a new book, The End of Fashion, all about how the consumption driven fashion industry has affected fashion and design.
Blogs + News
Podcasts
If you have something you think I should include in the next edition, please tag me on social media @textillia or drop me a quick message through the Contact page!
ps. If you're enjoying Textillia and want to help make it a success, here are some ways you can help out!
pps. Be sure to follow us on Bloglovin!